There's hardly a flat bit of road in today's stage and when the roads climb or descend they're irregular with varied gradients and tight descents. Today's stage offers a tricky course and it's hard to pick a winner but Marcel Kittel seems bound to surrender the yellow jersey.

Stage 1 Wrap
The Tour got the Royal "oui" with a start that put the grand in départ. Once the ceremony was out of the way the racing began as Jens Voigt, Benoît Jarrier and Nicolas Edet went up the road in a bid to get the mountains jersey for a day. The bunch was happy to let the trio go only Edet and Jarrier though were unhappy to see Voigt go: he went for the intermediate sprint and just kept going leaving the French pair humiliated live on TV, the pair unable to chase. Behind Bryan Coquard won the intermediate sprint in the peloton, note Marcel Kittel didn't contest it.
Voigt took maximum points on the next two climbs and then sat up but during the chase behind some riders were tailed off on the narrow roads, reduced further by the giant crowds including GC contenders like Thibaut Pinot. The Frenchman got back but with a reminder not to linger at the back. Voigt takes the mountains jersey for the second time… he wore it for a day in 1998.
A sprint finish was inevitable and we had sprint trains charging to the line, each seemed to go to early and Fabian Cancellara tried a late attack. But the Spartacus rebellion was extinguished and Marcel Kittel was perfectly-led out before launching with 250m to go.
Cavendish woke up in the morning wondering if he'd wear yellow but finished the day dressed in bandages after crash in sight of the finish line. A tangle with Simon Gerrans saw the Aussie bump Bryan Coquard and Cavendish and Gerrans went down. The immediate cause was Cavendish trying to get into a gap that was closing but it had more factors, OPQS went early in the sprint and seemed disrupted by the hills; earlier Alessandro Petacchi had been dropped meaning one less lead out.
For the TV viewer the whole thing live might be too much given the action was largely reserved for the final kilometre but if Kittel won but there was a British victory of sorts with the crowds, a joyous sea of humanity – the police said two million people which means over 10,000 per kilometre. The riders loved it, although some complained of ringing ears and others found it hard to get a private spot to pee.
The Route
Km 47.0 – Côte de Blubberhouses, 1.8 kilometre-long climb at 6.1% – category 4
Km 85.0 – Côte d'Oxenhope Moor, 3.1 kilometre-long climb at 6.4% – category 3
Km 112.5 – Côte de Ripponden, 1.3 kilometre-long climb at 8.6% – category 3
Km 119.5 – Côte de Greetland, 1.6 kilometre-long climb at 6.7% – category 3
Km 143.5 – Côte de Holme Moss, 4.7 kilometre-long climb at 7% – category 2
Km 167.0 – Côte de Midhopestones, 2.5 kilometre-long climb at 6.1% – category 3
Km 175.0 – Côte de Bradfield, 1 kilometre-long climb at 7.4% – category 4
Km 182.0 – Côte d'Oughtibridge, 1.5 kilometre-long climb at 9.1% – category 3
Km 196.0 – Côte de Jenkin Road, 0.8 kilometre-long climb at 10.8% – category 4
Today's stage has an air of Liège-Bastogne-Liège with its hilly route and the succession of short, steep and irregular climbs plus it ends in a town called Sheffield that's seen its steel industry shrink. But it's neither April nor a one day race so the tactics are different. The opening part all the way to Holme Moss sees the climbs spaced out but note there are many more ascensions along the way than their are categorised climbs, ASO have had to pick a few climbs for the mountains competition but there are several unmarked climbs.

If the unmarked climbs can surprise so can the marked ones. This is not the Alps where regular engineered ascensions are the norm, here the average gradients are meaningless as roads pitch up, level out, rise and repeat. It's not worth breaking down each climb because it's their addition, the combination that will tire the riders.
The Finish: pan flat for the last four kilometres. But there's short climb of Jenkin Road to scale and the caption above does it no justice. Visibly nondescript, it passes brick-built houses but all aligned diagonally upwards. ASO say 800m at 10.8% but others say 11 or 12%. The typical gradient is 15% and it has parts at 20% marked by the white handrail to help vertiginous pedestrians and the average is only reduced by a short flat section near the top which just annoys, no time for recovery. There are steeper roads in cycling but this is special for the Tour. The descent's manageable and the flat kilometres after don't suit an attack on the climb if there are enough riders with team support to chase.
The finish line itself is flat and wide using one side of a large dual-carriageway.
The Scenario: off the front or out the back? The route is selective so it's a question of whether riders use the terrain to get the jump on their rivals or instead the repetitive efforts simply prove too much and see the contenders ejected from an ever-shrinking bunch. There are so many climbs today that many riders will fancy going in the break: win the mountains jersey and it's yours for several days.
It's a tough course but hard to imagine a battle between the GC pretenders as whoever attacks first risks being brought back by the others and their teams and exposed to a counter-attack. But should lesser riders try their luck the promise of the yellow jersey means nobody wants to give them any room.
The finish is complicated by Jenkin Road. If there's still a large group we can expect two sprints, one to the foot of the climb to fight for position followed by an intense effort uphill before the third final sprint. What's certain is that the yellow jersey will change.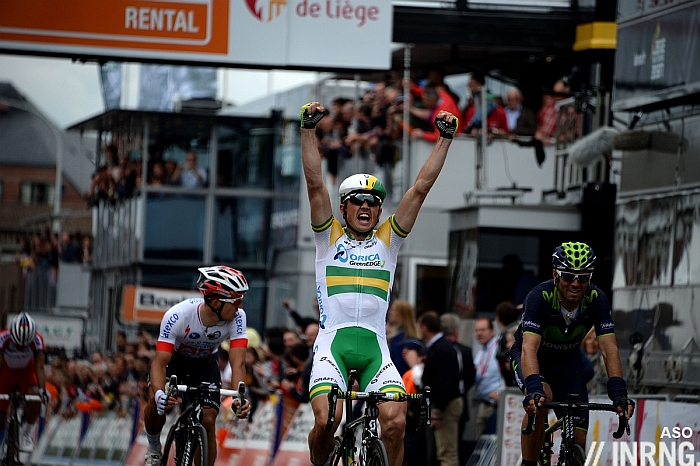 The Contenders: the prototype rider for the stage has to cope with climbs and then pack a sprint good enough for the finish.
Simon Gerrans won in Liège earlier this year and would be a good pick but his crash yesterday will have repercussions even if the word is he's ok to ride. If not Orica-Greenedge team mate Michael Albasini is a handy back-up but less prolific at this level.
I'm in two minds over Peter Sagan. He's widely tipped but personally I think this course could be too much for him, after all another sprinter who can scale a few climbs is John Degenkolb but he's ridden the route and promptly ruled himself out although if it's a cautious race both he and Sagan can profit. If not remember J-J Rojas, the sprinter who never wins because the finishes are too fast, maybe today is his time to wave goodbye to the others?
But if Rojas is there, it's likely his boss Alejandro Valdverde is too. Valverde made the podium in Liège and is a good pick if the tough get going. He's got bigger goals but if a stage win is there for the taking it'll go. Among the GC rivals there's not much of a sprint for Chris Froome, Alberto Contador and Vincenzo Nibali, it'd be fun to see but they might be accompanied by team mates and Geraint Thomas, Nicolas Roche and Maxim Iglinskiy are all faster team mates for this finish. Then again Chris Froome was sixth yesterday; you can't imagine him sprinting to the win but an attack on Jenkin Road? If this sounds far-fetched remember he attacked on the final climb of Stage 2 last year into Ajaccio, a steep hill a few kilometres before the finish.
Tom-Jelte Slagter is just the punchy rider for this course, his stage win in Paris-Nice is witness to this where he simply rode away from the field on the steep and irregular slopes of Mont Brouilly. Team mate Ramunas Narvardauskas is also worth watching, a force of nature.
Tony Gallopin is the stealth pick. Not a famous name but the Lotto-Belisol rider was climbing very well in the Dauphiné and in times past saw himself as a sprinter, winning French Cup races as a neo pro; team mate Jurgen Roelandts is handy too. Greg Van Avermaet is another name to conjure with but more on reputation than form, recent results don't show too many high finishes and if you're betting sort remember he's a very rare winner outside of Belgium.
Arthur Vichot could be a pick but FDJ haven't scouted the course so they're at a disadvantage. Ag2r's Christophe Riblon might be a better bet, the Alpe d'Huez winner has a track background. Finally there's always Thomas Voeckler.
| | |
| --- | --- |
| | – |
| | – |
| | Alejandro Valverde, Simon Gerrans, Tony Gallopin |
| | Greg Van Avermaet, Simon Špilak, Nicolas Roche, Rui Costa, Peter Sagan |
| | Peter Velits, Rein Taaramäe, Christophe Riblon |
Weather: cool and cloudy again with the temperatures reaching 18°C.
TV: live from start to finish again. The official start is 11.20am UK time / 12.20pm Euro time with the finish expected for 4.30pm. The hilly route should mean more suspense but if a move goes and is left to get a lead, feel free to go for a ride and tune back in for the final hour.
Côte de What?Côtemeans several things in French from a "rib" to the "coast" but it also means a "ridge" and when paved, a "slope "or "climb". It's the latter definition that in use to describe the climbs along today's route and is distinct for a col or a mountain pass. Locals might find it amusing to see such anglo-saxon locations appropriated by the Tour de France and the names are odd.
The Tour does this to the French landscape too. A hill on the route will often have a local name but the Tour's planners ignore it and often name it after the nearest village. Today is a handy example with the Côte d'Oughtibridge. But think about it, the -bridge suffix sure signals the river crossing in the valley below? The real name of the hill is Jawbone Hill.
It's testimony to the Tour's power that it appropriates geography, temporary renaming places for its daily conquest of the landscape.