Luka Mezgec of Giant-Shimano wins the final stage of the Giro. He was visibly faster and the image above helps show why.
Look at him compared to Giacomo Nizzolo (Trek) and Tyler Farrar (Garmin-Sharp), Mezgec's head and shoulders are angled low while the other two have their heads higher than their backs.
Does the camera lie? You could think it's possible the image has caught an instant in time but look closely and you see all three have virtually the same phase in the pedals with their left foot at or about 12 o'clock. You can see Mezgec has a level position throughout in the video highlights of the stage too.
Mezgec's low position alone doesn't explain the win but at close to 70km/h every aerodynamic advantage counts and position is the biggest one going. Several riders have improved their technique while Mark Cavendish is famous for producing relatively few watts but being so low on the bike that he can reach higher speeds than the others.
Mezgec has to be one of the best signings in recent years too. Hired initially because he had a stack of points after winning in Asian and the Dutch team were worried about staying in the World Tour the Slovenian has proved fast enough to win targeted races.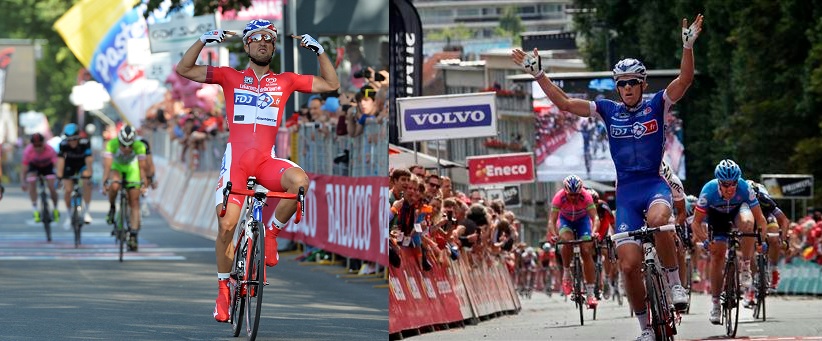 FDJ's Sprint Dilemma
Now to a story about two sprinters trying to hold their heads up high. FDJ have a management dilemma with Arnaud Démare and Nacer Bouhanni both wanting to ride the Tour de France. Two cohabiting sprinters is a tough ask but especially since the team has promised Thibaut Pinot can have two climbers and two bodyguards for the flat stages. Add on the two sprinters and that's one lead out each per sprinter. One solution, reports today's L'Equipe is to identify suitable stages and alternate the sprint leadership from day to day. Bouhanni wasn't supposed to ride the Tour (he did it last year) and has been exploring transfer options soon after he was dropped from FDJ's team for Milan-Sanremo. But as pointed out on here the other day, the team is having a great season with 16 wins only 15 of these have come from their sprinters. Lose Bouhanni and they lose a lot of wins and points. It's complicated but suggests management problems where roles and goals were not set out clearly early enough in the year. All this might seem like a lot of trouble just so a rider can finish 4th in a Tour bunch sprint. Démare and Bouhanni are good but have yet prove invincible.
Sky's Wiggins Dilemma
Rivalry, doubts over selection and talk of leaving the team? Obviously there's the case of Bradley Wiggins too but that's all over the media. Tales of rivalry and selection are good for the media with expert analysis of the Kremlinology: "does Wiggins's selection for the Tour de Suisse mean he's not in the Tour Team?" etc.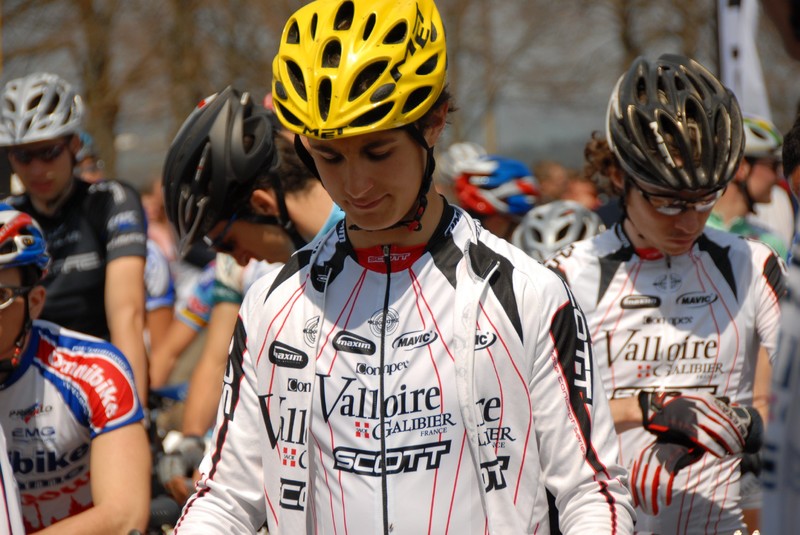 Pikachu
One of the revelations of the Giro was Alexis Vuillermoz. Part of the Sojasun team that folded last year it was late into October before he signed with Ag2r La Mondiale. His nickame is Pikachu, after the Pokémon character and came about after he wore a yellow helmet. That's him above in the offending article.
Rider nicknames have gone into decline with monikers like "Froomey" and "Dodger" or francophone "Juju" and "Kiki" as opposed to classics like "the Eagle of Toledo", "The Butcher of Sens" and "the Eternal Second" but presumably this is because they're dreamt up on the team bus rather than created by the wordsmiths of the press room. A superior exception in the peloton is "El Condor" which is being used for Nairo Quintana. This name had been used by José Rujano but he's vanished from the scene and seems to have vacated the name too.
What Next for Nairo Quintana?
The Colombian his having a break and his next race will be the Vuelta a Burgos in August before he rides the Vuelta. He's also moving to Monaco according to newspaper reports. There goes the Col de la Madone record.
Alex Dowsett's "forbidden" record
Onto another Movistar rider and a different record. Alex Dowsett set a new 10-mile record in Britain the other day with a time of 17.20 (average speed 55.7km/h), a sign he's on form as he hopes to ride the Tour de France. But you might remember the row over "forbidden races", namely events run outside of the remit of the UCI and its member national federations. Such events include many US mountain bike events but also a lot of time trials in Britain which are held under the rules of an alternative governing body which does not subscribe to the UCI. Of course Dowsett is unlikely to be sanctioned, rather it's a reminder of the absurdity of the UCI's rules which try to prevent people from riding alternative events and that this issue has yet to be resolved. Hopefully it is agreed by the UCI Congress in September.
Critérium du Dauphin-early
I'll do daily previews for this race. One thing to note ahead of the race is the early timings with most stages forecast to finish at 2.50pm French time which means breakfast in America while Australians don't have to burn the midnight oil.
Skoda Tour of Luxembourg
The race starts today with an evening prologue and Jimmy Engoulvent is not riding; he's won the prologue in 2010, 2012 and 2013 making him on of those arch-specialists who seem to excel in one race above all others. Think Greg Van Avermaet who's taken almost half his pro career wins in the Tour de Wallonie or Simon Špilak, the Tour de Romandie specialist. We'll see the Schleck brothers back in action – remember them? They will ride the Tour de Suisse too but the local race should be a way to gauge their form. Whatever you think – and Twitter seems full of abuse directed at Andy – the story of Andy Schleck showed a rider on the dawn of a golden career… which never flourished in the way we expected. A note of caution for all hype when a rider appears on the scene in a stage race.
Orica's French mission
Orica-Greenedge are the fun lovin' team and sponsor Orica might want continued good publicity this July. It manufactures explosives for mining and other specialist chemicals and has a long list of environmental accidents. The latest concern is the stockpile of hexachlorobenzene. Considered carcinogenic, the solvent is stocked in Sydney but there's no means to dispose of it there and the company has been trying to find somewhere, anywhere, to dispose of it safely. It's now found a possible destination: France. A previous attempt in Denmark failed after pressure from environmental groups. Johnny Halliday on air guitar? Serge Gainsbourg's Je T'Aime Mon Non Plus? On second thoughts, please no.
Housekeeping / Donation Update
Work's ongoing for on a donation function for readers to contribute. If it happens you'll see a pop-up on screen but there's no obligation: zap it with a click if it's not for you and it won't appear every time you visit. The plan is that anyone donating over a yet to be worked out amount in $/€/£ etc will get a cap or some socks sent back.