A lot of riders will have had today's stage marked in their diaries for months. Too hilly for the sprinters and not decisive enough for the overall contenders. Perfect for a breakaway.
Stage 10 Wrap
A long day as two men took turns to share the work, pacing themselves for hours as the inevitable sprint finish approached. Yes Eurosport's Rob Hatch and Sean Kelly spent a long time trying to fill the airtime with audio, an effort replicated by many other commentary teams. Neri's Andrea Fedi and Androni's Marco Bandiera went clear in a futile move and there was little to talk about for hours.
The hill at the end did what it was supposed to do. Sky upped the pace, the sprinters drifted back and there was even an attack from Nicolas Roche. As the race crossed town the sprinters could be spotted surging through the bunch with Nacer Bouhanni among the last to get into place. But last in, first out and the Frenchman won his third stage. Kittel's retirement from the race has had an impact but would the German have survived yesterday's sharp climb? Bouhanni's consistency is impressive, the way he seems to come from far back in the final kilometre to win. Improve his positioning and he could win more. Each sprinter has their style but there's a touch of Cavendish with the very low aero position which means at 70km/h it's hard to pass him.
Note the transfer soap opera goes on with L'Equipe transmitting opposing quotes every day from Bouhanni and Démare. We know both riders want to ride the Tour de France and it's refreshing that both are able to say so, as opposed to meaningless phrases like "I'm taking it day by day". But all the same you'd think FDJ's press team would have shut this down some time ago? But today sees team DS Martial Gayant singing praise and talking of a round table summit to find ways to keep him on the team.
The Route: 249km and a very long day. A flat start leads the race to the Passo Cento Croci to cross the Apennines. It's a soft climb, long but typically 4-5%. The race drops down to the Mediterranean and then hugs the coast. It's heavy going past Sestri Levante and only gets flat near Genoa where it picks up the Milan-Sanremo route to ride to Savona with 45km to go but doesn't cross the finish line. Instead it heads for the hills.

The climb of Naso di Gatto ("cat's nose" – named after an old inn if you need to know) is a tough one with 6km at a selective 8% average and steeper at times. It's tough enough to make it every man for themselves and often cuts through woodland meaning if a rider gets away he can get out of sight quickly. It's followed by a fast descent with some technical sections but on a reasonably wide road.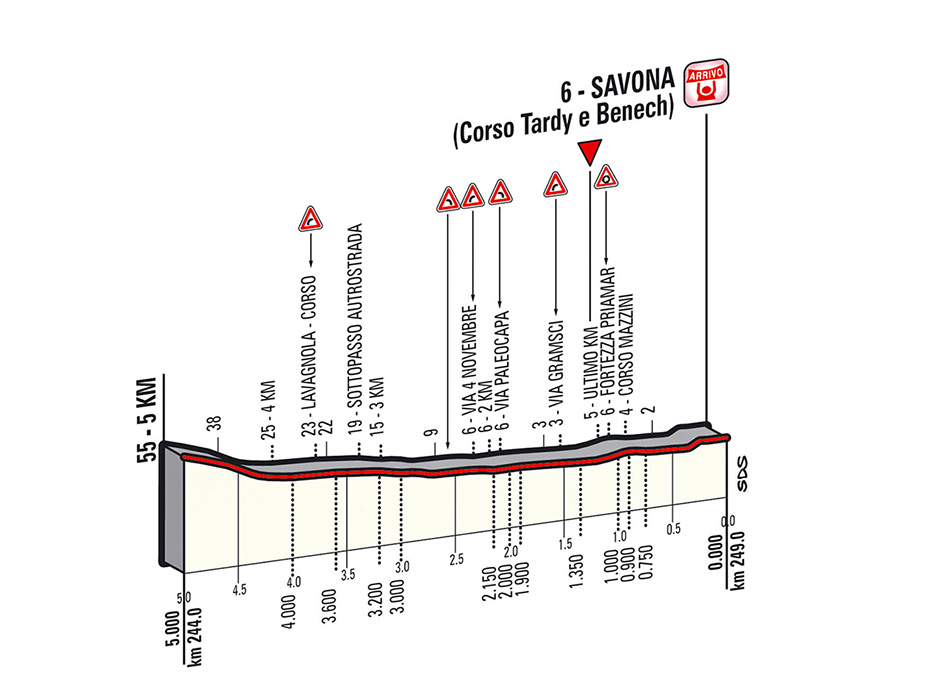 The Finish: after the descent ends the race enters the port town of Savona, passes the sea front and turns inland for the finish. It's a flat and safe urban finish.
The Scenario: the day for a breakaway to survive. This could happen in two broad scenarios:
An early move goes but it's reeled in by teams who missed it and the Naso di Gatto climb serves as the launchpad for a move from the bunch
More probably a move gets going in the first hour and stays away. It'll be whittled down on the Naso di Gatto by attacks
There's also a secondary contest today, the race to be most efficient among the GC candidates and time trial specialists. They'll look to spin soft gears and shelter as much as possible because tomorrow's decisive time trial awaits. We could see a sneaky attack over the top of the last climb from someone to poach time but it's high risk, a 30 second gain to be set against aching legs the next day.
The Contenders: last in, first out again. Several riders sat up yesterday to save a bit of energy rather than fight to hold the wheels and rolled in six minutes down. Among them Thomas de Gendt (OPQS) and Stefano Pirazzi (Bardiani CSF) and they're obvious candidates. Watch Adam Hansen (Lotto-Belisol) and Pieter Weening (Orica-Greenedge) but there's a long list. Three quick picks: Salvatore Puccio (Sky), Simon Geschke (Giant-Shimano) and… I was going to pick Marco Bandiera of Androni as he had ridden today's finish in a recon earlier this year but oddly decided to go in yesterday's no hoper. Still we can fully expect Androni to have a rider in the move and if many riders have picked this stage it's easy to imagine Gianni Savio has also saved his best suit for today.
Today the chainrings below are almost more indicative of who might get in the break rather than win. Picking a winner from a stage targeted by 100 riders is a lottery.
–
–
–


Thomas De Gendt, Stefano Pirazzi, Adam Hansen

, Pieter Weening

Puccio, Geschke, Canola, Tanner, Gatto plus most of the Androni team
Weather: dry and sunny with temperatures of 25°C. Summer has arrived.
TV: the race is on a variety of TV channels according to where you are in the world. Eurosport is covering the race across most of Europe. beIN SPORT has the rights in the US and France. There's cyclingfans.com and steephill.tv for TV schedules and pirate feeds and more.
Tune early to see the breakaway. The race will reach Savona for the first time around 4.00pm Euro time to then go and start the climb with the finish expected around 5.10pm.

The Madrina: the Giro has a madrina, a godmother. The job description appears to involve being female, wearing a pink dress and parading around the start village with the Trofeo Senza Fine. Before you start howling "sexism", pro cycling fans can hardly talk given the race is men-only, employs "podium girls" and so on. One person who can talk on the subject is this year's madrina because Chiara Francini, an actress from Tuscany with several Italian films, plays, TV and radio shows to her name plus a Dolce and Gabanna ad also has a university degree with a thesis in Literary Hermeneutics. Just to remind you, hermeneutics is a synonym for exegesis, the interpretation of texts.
New for 2014 is the link with aid charity Oxfam and the Giro and Francini are linking up to help the charity.