Ian Stannard (Team Sky) launches his sprint with 300 metres to go. It's a long range effort but just enough to distance Greg Van Avermaet (BMC Racing) by a few metres and take an advantage which he can keep to the line. This was the moment the race was won.
It was a thrilling race that was worth a winter's hibernation with outcome that wasn't certain until Stannard's cheeks puffed in relief as he beat Van Avermaet by a wheel.
The early break went and its riders had extra incentives to get stuck in. First, it was cold and in time it started raining so if they weren't going to win, the fugitives might as well keep warm. Second, the Muur was back on the course and riding up is always going to be a special moment.
Not everyone got to enjoy the early part of the race, notably Thor Hushovd who crashed out and went to hospital, some tweets said a broken arm but the team says he's ok. If the breakaway never got much of a lead the bunch took its time to warm up and it was on the Kruisberg that the first moves happened with Lotto-Belisol's Lars Bak and later FDJ's Johan Le Bon trying to soften up the race.
Vanmarcke > Boonen
Onto the Taaienberg and normally the scene of Tom Boonen's trademark attack to gauge his form but instead it was young pretender Sep Vanmarcke (Belkin) who took off with Ian Stannard and Belkin accessory Martin Wynants along for the ride. Vanmarcke rode a furious race and if there was a most aggressive rider award he'd be the unanimous pick. But there wasn't.
De Ravage
New moves from OPQS's Matteo Trentin and Le Bon again led TV commentator Renaat Schotte, perched pillion on a motorbike, to pronounce "de ravage in het peloton is fenomenaal" which shouldn't need much translation. More moves were happening and with hindsight we saw the names who'd feature later. Greg Van Avermaet went on the Leberg, marked by Niki Terpstra (OPQS).
With 41km to go a serious move went clear with Edvald Boasson Hagen (Sky), Lars Boom (Belkin), Terpstra, Cofidis's Spanish flahute Egoitz Garcia, Ken Van Bilsen (Topsport Vlaanderen-Baloise) and FDJ tandem of Arnaud Démare and Yoann Offredo. The group looked good but it splintered with Offredo crashing at the foot of the Molenberg and over the top Terpstra and Boom went clear. They were chased by Boasson Hagen and joined soon after by Démare and Van Bilsen.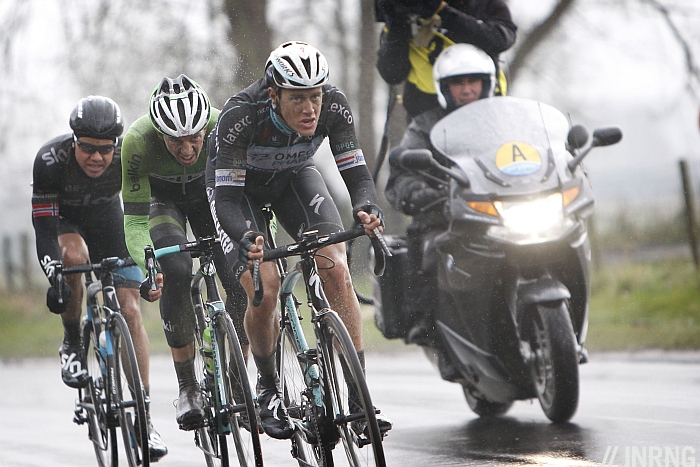 The Lippenhovestraat cobbles were decisive. Terpstra got in his low tuck and Démare and Van Bilsen got stuck to leave a trio of Terpstra, Boom and Boasson Hagen. Tactically it was solid because there was not much of a chase behind. But like a cheap criminal under interrogation the story kept changing every five minutes. The first deviation from the script was a puncture for Boom. This left Terpstra and Boasson Hagen to start arguing and eventually the Norwegian said no way and took off solo. It looked brave at best because EBH would normally smoke Terpstra in the sprint, both are fast but the Sky rider is that bit faster. Going solo meant Boason Hagen would tire and OPQS behind could start chasing. But the solo bid was short lived as Terpstra dragged himself back up so they could resume arguing again. By now the lead two were merely marinating in the rain as the chase group began to bear down on them.
Textbook move
Just as they were caught Stannard counter-attacked. Textbook stuff and Greg Van Avermaet jumped on the Briton's wheel. Once described as "a docker" by Belgian TV, Stannard's bulk meant Van Avermaet was being motorpaced to the finish. The two co-operated with the Belgian riding with one hand in a glove and one without. Presumably this was misfortune rather than fashion. Behind Terpstra surged again with Vanmarcke and Boasson Hagen. If Van Avermaet was getting a tow up front, Boasson Hagen was sat in a sedan chair carried by Vanmarcke and Terpstra. But if the lead pair were in sight of the chase, they never got closer than 10 seconds and as the race swept into Gent the lead pair had 20 seconds.
Power vs sprint
Normally Greg Van Avermaet is a fast sprinter. Normally Greg Van Avermaet is a runner-up. Which scenario would run true? Stannard's is immense but has a weak spot and it's his sprint. But powerful riders without a jump just have to use their power and that's exactly what Stannard did. He jumped before the 300m sign and turned on the power. It looked like a slow motion sprint but no, Stannard was just in a huge gear. He got a gap and if "Raymond" Van Avermaet was faster in the final 50 metres it was too late as Stannard crossed the line in relief to win.
Perhaps Van Avermaet with his one glove wardrobe malfunction was frozen to the bone, certainly he was shivering after the race. Riding in wet temperatures like this can render your exposed hand as dexterous as one of those litter-grabbers, you can open and close the fingers but no more. But dealing with the foul weather is half of what racing is about.
The Verdict
Stannard proved the toughest of the lot. He was active in several moves in the last two hours and his late attack saw him give everyone the slip except for Van Avermaet who he duly beat in the sprint. It was also a team victory with Boasson Hagen playing policeman to Terpstra and Vanmarcke and thus increasing the odds for Stannard. Belkin had a good day and the same for BMC although Hushovd's crash dampened things. But what of OPQS? If Terpstra was very strong, Tom Boonen took it easy and the team was not as visible as predicted.
An entertaining race with surprises throughout the final 90 minutes and a deserving winner in the end this was a great start to the season.