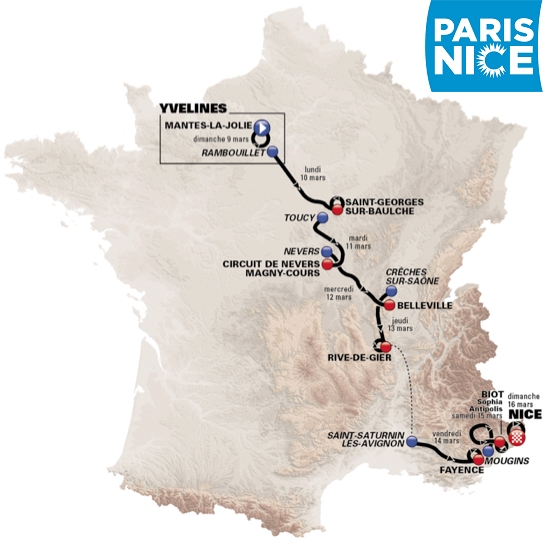 ASO have announced the route for Paris-Nice and here's a quick look at what's in store next month. With no time trials and no big summit finishes either it promises a tactical race for the puncheurs with steep ramps and walls to provide the suspense.

Sunday 9 – Sunday 16 March
Stage 1 is a loop based on the commuter town of Mantes La Jolie and a sprint finish looks likely. Stage 2 is another probable sprint finish but has a finishing loop and crosswinds are possible. Stage 3 heads for the Magny Cours motor-racing circuit with its evocative Adelaide and Estoril bends. Flat and wide it sounds ideal for a high speed sprint finish but remember the bunch often looks slow on a circuit designed for lapping at 200km/h.
Stage 4 should have gourmets and spectators in rapture with Mont Brouilly on the route. An ancient volcanic peak in the Beaujolais vineyards and the 25% gradient quoted in the caption above makes this sound like something special, something to rival the vicious climbs of Tirreno-Adriatico. But in reality it's not a towering peak and the road rises more in the order of 15%. But Brouilly will still leave the sprinters with a hangover it's just a few kilometres to the rendez-vous in Belleville via a tricky descent.
Stage 5 might set-up some déjà vu as Stage 12 of the Tour de France will cover some of the route later this summer. A succession of climbs gives the profile a lumpy look but the gradients are steady, a finish for most sprinters with advantage John Degenkolb or Thor Hushovd. After a big transfer down the Rhone valley Stage 6 heads towards the Mediterranean coast but is stopped by the Mur de Fayence, "the wall" is climbed once and then again to to the finish. It's traditionally a feature of February's Tour du Haut-Var.
Stage 7 heads inland with some long steady climbs, passing ski stations before heading downhill for three circuits around the Sophia-Antipolis tech park. It's here where Remy Di Gregorio won in the rain, a day still remembered for Robert Kiserlovski's screaming agony as he slid into a parked truck but looking forward it's a tough stage to shake out the winner. Stage 8  starts and finishes in Nice, twice as nice and a classic route for local riders as it heads inland via a series of climbs designed to wear down the peloton.
Route Summary
No time trials and no summit finishes makes this a blank canvas and a test of the dictum that "it's the riders who make the race, not the course". The absence of set piece stage finishes like a time trial or summit finish mean there's nothing to impose a chronological hierarchy on the race. Instead there are walls, ramps and other sharp obstacles to overcome and it should see time bonuses play a big role (update: they're included, it's confirmed).
Hopefully this prompts a lively race where the lead can change every day and riders must take risks and set tactical traps to beat their rivals. Note the total distance of 1447 km, the longest ever since 1968… when the race was a day longer.
What to watch: Paris is the capital city and Nice is the biggest city on the Côte d'Azur, a highly populated coastline. But in between there's a lot of empty space and the race has a rural feel as it traverses sleepy regions waiting for spring to arrive. Expect open roads and with luck, crosswinds to add more to the early stages before Mont Brouilly forces a selection.
Big Test: as Bradley Wiggins and Chris Froome have shown, winning here doesn't mean you peak too soon. But in the absence of obvious time trials and long climbs the winner needs to be a more punchy rider than one capable of holding a high wattage for 20-40 minutes. In times past the race has been good at revealing talent so look to see who can emerge here. We've yet to get the startlist but think of Alejandro Valverde, Simon Gerrans, T-J Slagte, Geraint Thomas, Enrico Gasparotto and Rui Costa – all capable of climbing but also taking time bonuses and maybe a risk or too as well.
Small Test: wildcard invitations have gone to Bretagne-Séché, Cofidis and IAM Cycling. We'll see what Bretagne-Séché can do, expect breakaway action.
Paris-Nice vs. Tirreno-Adriatico: it looks odd the calendar but fans can rejoice as they get two races a day to watch. The more I think about it, if it's dysfunctional for the sporting calendar, it adds some suspense. There's something good about two different paths, it keeps us guessing about the relative form of different riders especially since the two routes contrast so much this year, the Italian race visiting the ski station of Selvarotonda di Cittareale.