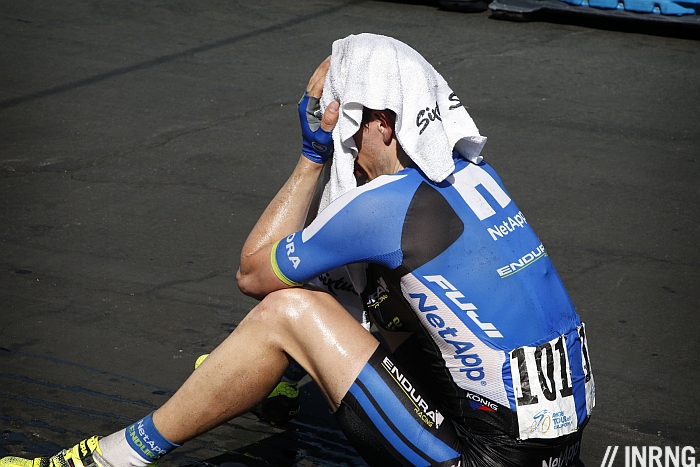 Anyone for tennis? Players in the Australian Open are getting heatstroke on court and next week sees the Tour Down Under start in Adelaide where it's even hotter.
Racing in high temperatures brings a new set of challenges and some solutions are set out below. Can it get too hot to race?
First some basics. The temperatures quote on TV are normally the shade temperature and measured according to a strict protocol but the road cyclist has no Stevenson screen which explains why the temperature measured on the road is often hotter than the weather forecast.
Why is the road even hotter?
A black strip of tarmac absorbs the heat from the sun very easily and by the time the race starts the road surface can easily reach 50-80°C (120-180°F). Enough to fry an egg.
With the road so hot, the air above gets heated immediately. So when the temperature in the shade is 32-40°C (90-105°F) it's common for the cyclist to face infernal air temperatures of 50°C (120°F) and more. If the air above the road feels like riding in a hair dryer, it's only the start of the cyclists problem with heat. In addition to the ambient temperature there is radiation. Heat is radiating directly from the tarmac and you can add the sun's rays too.
How to keep cool?
Ride. Unlike a tennis player, the mere act of pedalling ensures a breeze, meaning you can race in conditions where a tennis player or a marathon runner could not. The breeze itself does not cool, it is the evaporation of sweat. With exposed limbs and light fabrics – think Chris Froome's racey mesh – the road cyclist can let the evaporation effect keep the body cool, or at least functioning, on all but the hottest of days.
All this depends on a breeze but start climbing and your speed drops off as the effort increases. Worse if there's a slight tailwind you're travelling at a similar speed as the air meaning the rate of sweat evaporation slows right down. Unlike Lee 'Scratch' Perry when it's too hot, you won't cool down on the hilltop.
Sweating means a lot of water loss but your body also uses the lungs to cool. When it's cold you can see your breath condense but when it's hot you're losing even more moisture with every breath only you can't see it. It's often a forgotten aspect of water loss.
Some riders have an advantage too. A large surface area is better meaning the more skin you've got relative to your bodyweight then the more sweating can help. There's more to it but in simple terms I'd say Chris Froome and Nairo Quintana both have an advantage in the heat over a more classically-built rider like Vincenzo Nibali or Roman Kreuziger.
It looks very hot in Adelaide right now but the peloton can experience high temperatures in the northern hemisphere too. The 2010 Vuelta was a hot one and on one day, teams were handing out 240 bottles a day: on average more than 25 per rider. Of course it depends what is done with the bottles, whether they are used for drinking or get used to douse the rider in water. Last year's Tour of California saw temperatures of 115°F (46°C) reported on the stage to the Palm Springs Aerial Tramway and exhausted riders riders were collapsing in the heat after the long climb to the finish line.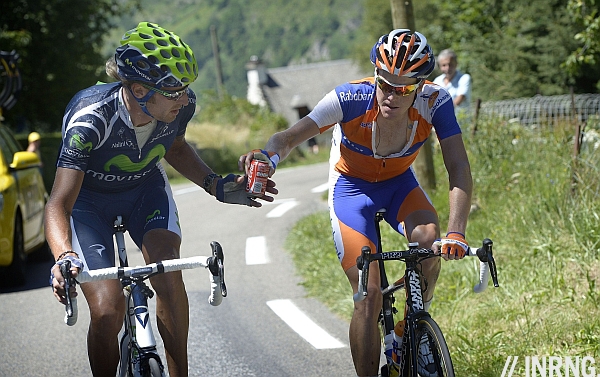 Cold or hot?
It's said Bedouin tribes in the Arabian deserts often take warm drinks despite the heat but I wonder if they just need to boil water to keep it clean?. A cold drink on a hot day can be the stuff of fantasy as the rider toils on a hot road. But the sudden ingestion of cold water can cause trouble for stomachs, whether cramps or digestive problems. But a cold drink can help bring the core body temperature down so it's a question of what works for different riders.
Overload
A clever team will weigh riders before and after on hot days to get a quick take on dehydration. If a rider loses too much water then this reduces performance but at the same time it's hard to constantly drink on the bike for hours. As fatigue sets in, drinking has to become a more concious effort. Here some try a mix of different drinks, plain water, then fruit juice and some with electrolytes, and when all else fails, a can of Coke emerges from the icebox in the team car. If all else fails…
Who said I did not have fun today????? Love the Tour de Francr http://t.co/svY4FZ25TB pic.twitter.com/DXIpLTl34R

— Adam Hansen (@HansenAdam) July 18, 2013
Tech
Some teams have been experimenting with ice vests, waistcoats lined with pockets containing a gel that has been in the freezer. These have been used for "warm-ups" prior to the race, the idea being that the rider spins the legs on a trainer but the vests are used to keep the upper body at a more acceptable temperature. But Sky and Garmin have tried adapted versions during mountain stages, a high tech version of the old-school trick of putting sponge under the jersey, behind the collar, so that it drips water.
Adaptation also helps. Riders can get used to the heat, whether from a week's stay somewhere hot or with more unconventional means. Bradley Wiggins rigged an indoor trainer in a shed and used heaters to recreate the warmth of Spain inside his English home before the 2011 Vuelta.
Post-race
Stopping a race doesn't mean a rider cools down, especially as the finish line is often bustling and hot and the rider is standing in sweaty, salty clothing. Some teams are using static trainers to cool down but before this they'll have a cool drink, maybe a wipe with a damp towel and other means.
It can take longer to cool down properly. A cold bath is a simple remedy to help bring down core body temperatures. Teams use ice baths and and even cryotechnology. The aim of these techniques is to help swollen muscles but the literature is inconclusive, what is more obvious is riders reporting they feel cooler and even sleep better for it.
There are more direct health risks. Melted tarmac can be a problem too. The tar used in road construction begins to soften and slowly the gravel chips sink into the tar and after a while the tar pools on the surface. This dark black material soaks up eat even more easily and liquefies in the sunshine… but only just. But it's the equivalent of a cartoon character running into a patch of treacle on the road, the dense and sticky tar can catch a rider by surprise on a descent. It was a big factor behind Joseba Beloki's 2003 crash in the Tour de France. In recent years the Tour de France has deployed a water tanker to spray sections of road prone to melting to help cool the tarmac.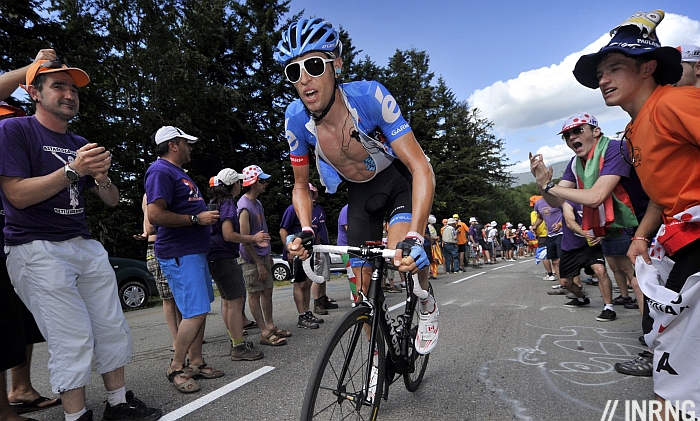 Can it be too hot?
Races can be cancelled because of snow and ice, can they be cancelled because of excess heat? Yes, because the organisers have a duty to protect a rider's health but there's little definition to this idea. Setting an absolute temperature is too inflexible, remember the gap between reported and "tarmac" temperatures and there's also the humidity to account for as this changes the rate of sweat evaporation too. But also the outdoor temperature is not the problem, it's the inside of your body that's the issue and a dangerous core temperature comes from exertion, the duration of the effort, dehydration and more. In short it's feel and a peloton cruising the rolling terrain around South Australian vineyards should feel cooler than one climbing up a mountain pass in California.
A pro race with experienced riders and team cars stocked with drinks is different from an amateur event where perhaps a lower threshold could be considered. It's up to the commissaires and race doctors to decide on the day but they face a pressured decision with a race organiser desperate for the show to go on.
Fans
Finally a word for fans. You know riding a bike brings a cooling effect. But if it's hot in South Australia next week there's often no breeze standing beside the road. Sure there's exertion you can still overheat so be sure to take drinks, wear the right clothing and find some shade.
Conclusion
Tennis can look soft at times with all those regular breaks in play, it's one of the few sports in the world with chairs next to the field of play so participants can take a break. But playing in the Australian Open probably brings a greater risk of heatstroke than doing the Tour Down Under.
Exercising in the heat can be dangerous but the efficiency of cycling on a road means physical effort can be tolerated because the effort spent making a rider move fast creates a flow of air to help cool the body via the evaporation of perspiration. Modern clothing is a great help.
There are tips and tricks from simple things like a following car stocked with drinks to acclimatisation. ensuring riders often train in warm areas. There are more sophisticated techniques with ice vests and cryotechnology which can help with performance. Sports science literature lists solutions but note teams are often, but not always, ahead of academics.
Some like the heat, some don't. But it's a technical challenge to overcome like racing through snow and learning to ride in a crosswind. Setting a safety threshold sounds like a good idea but near-impossible in practice because it's hard to measure temperature and then we need to account for humidity and then the type of race. It has to be a decision taken on the ground rather than set out in the rulebook.
Further reading: