Stage 19 and there are just three seconds between Vincenzo Nibali and Chris Horner, a mere time bonus separates the two and there's an uphill finish today which is enough to change things even if tomorrow brings the mighty Angliru to settle things.
Stage 18 Review
Vasil Kirieyenka won the stage. The stony faced hardman was ejected from the Tour de France but this time he eliminated his breakaway rivals with 50km to go and managed a smile on the finish line.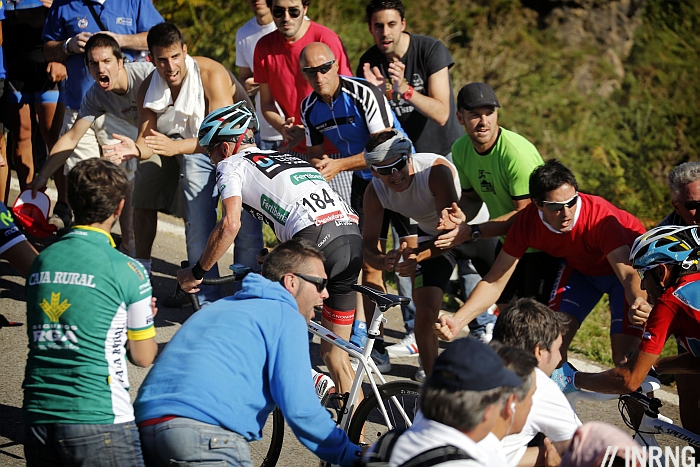 Behind we saw the GC riders locked in combat with each other and gravity. Katusha fired off Dani Moreno and Joaquim Rodriguez which caused trouble for some but only momentarily before but the Katusha pair started to default on their oxygen debt. Chris Horner profited and dropped everyone with Vincenzo Nibali saving his red jersey by just three seconds.
Stage 19 Preview
The Route: the race heads west along the Atlantic coast to Oviedo, turning inland to borrow some hillier terrain. Each of the two climbs on the way are manageable, the Alto de la Manzaneda is the tougher at 6.2% for 3.6km.
The Finish: the Alto del Naranco is listed at 5.7km at 4.2% but once you discount the soft first two kilometres it kicks up to 7-8% at times before easing to 6% for the final kilometre.
The Scenario: another day for a breakaway? Possibly and watch to see if the likes of Bauke Mollema or Warren Barguil are busy again as a rider who has already shown they're strong in the third week often continues to kick sand into the faces of weaker riders. But there's a long list of names to watch.
Amongst the GC contenders there's still time to shake things up. The final climb is not hard but then there's not much between Nibali and Horner. The rest of the GC is looking settled though and it'll be hard to ride away.  Riders can track each other by sitting on the wheels, it's not steep enough to reduce things to a private power-weight contest but we'll see who is nervous about the Angliru and wants to take some time.
Weather: sunny and 22°C with a tailwind that could turn into a crosswind at times as the race heads along the coast but at 20km/h it's hard for teams to exploit this
TV: as usual the finish is planned for 5.45 Euro time, as usual it will likely finish ahead of schedule.
Daily Díaz
If you think Spanish beaches equals Mediterranean Sea, San Vicente de la Barquera, departure town, will prove you wrong. Northern shores have colder and wilder waters, but that's not a problem for Cantabrian fishermen.
In km 8,1 the race arrives to Asturias, the region where this thing called Reconquista started. Back in the 8th century, when the Moors practically conquered the peninsula, a fighter named Pelagius beat them in a remote, mountainous place called Covadonga. The end of the story arrived 750 years later in Granada (see stage 10).
Km 59'3 and the peloton passes through Ribadesella. In this coastal town takes place every summer a canoe competition consisting in the descent of the final 20 km of Sella River. If you prefer Palaeolithic paintings, visit the caves of Tito Bustillo.
With 7,8 km to go Oviedo will receive the race. Capital of Asturias, this city has definitely a Northern touch: green landscapes, paved streets, rain all year round. Fancy a drink? Try the local apple cider (sidra), served in a typical way at the local taverns.
Today's finish line is in Mount Naranco, near Oviedo. This is where Santa María del Naranco and San Miguel de Lillo are. These two buildings date back to the 9th century and so belong to the pre-romanesque Asturian architecture. Remember Pelagius? He created the kingdom of Asturias and these were the palace and church for his descendants.
Thanks to cycling podcaster and history teacher Manuel Pérez Díaz for the local information. You can follow him on Twitter as perezdiazmanuel