Another day, another mountain stage? Yes but this is a short stage and the gradients are not to severe so it offers a chance to everyone rather than being reserved for pure climbers and GC contenders only.
Stage 15 Review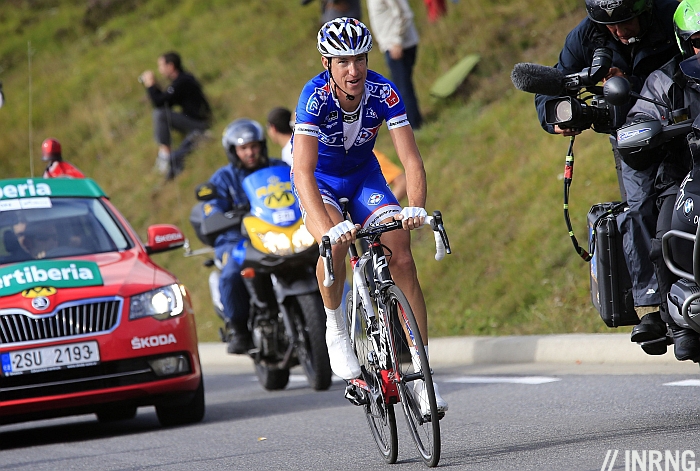 Alex Geniez won the day after a long break. Several big moves went clear at the start of the day and at one point Astana were under pressure as they were forced to chase earlier than they'd like. But all moves were kept under control and Geniez turned on the power to ride away, a 28 rider group thinning down to two and he finally dropped Caja Rural's Andre Cardoso to go on solo for the stage win. It's a welcome win for the rider, he's just 25 but in his fourth year as a pro now and finally landed a major win. If you want more on him and his past as an aerospace apprentice by day, bike rider by night then see this profile I did in 2011.
Note for all the talk of this being the Queen Stage of the race note the top-5 overall finished together. It's another piece of evidence that giant mountain stages don't necessarily make for giant sport, gripping TV or profitable audiences.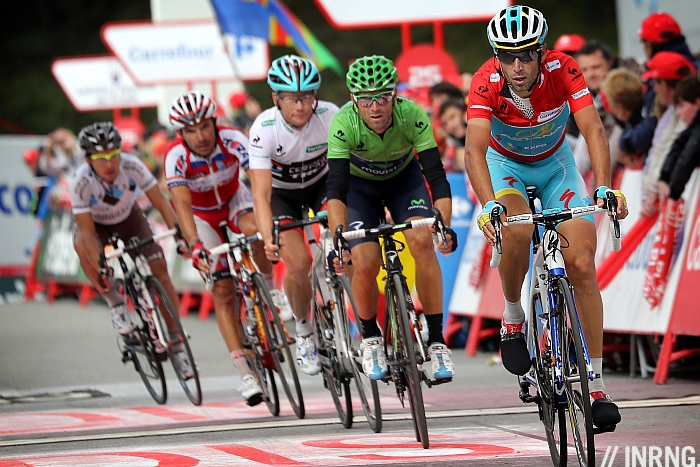 Stage 16 Preview
The Route: it's back in Spain for a short day as the race heads west through the Pyrenees near the border with France.  The Puerto de la Foradada is 5.9km at 5.9%, a good place for a breakaway to pull away. The Puerto de Cotéfablo is 12.5km at a steady 4%.
The Finish: the final 15km are made up of two climbs. First comes the Col du Portalet, a pass that climbs to the frontier but before the race gets to France, it turns off for a 3.5km climb to the Sarrios ("chamois") ski area. The road chances here from the large highway to a small road. It rises all the way to the finish line with a 6% slope.
The Scenario: a good day for a breakaway but the final climb will allow the GC contenders to take their chances. Take your pick from a range of breakaway riders like Sky's Dario Cataldo, Belkin's Bauke Mollema or Rinaldo Nocentini but there are many more riders down on GC who could go up the road and spring a surprise on the final climb. Another to watch is Euskaltel-Euskadi's Samuel Sanchez.
We'll see how the GC guys are feeling after yesterday's marathon. Obviously recovery is always important but the third day of three mountain stages is crucial. Both Alejandro Valverde and Joaquim Rodriguez have lost their zing of previous years but they might ride well today but we'll see if anyone in the top-10 drops out but the top three riders are beginning to look quite settled.
Weather: dry and cool conditions with a top temperature of 18°C but cooler for much of the day.
TV: tune in for the final hour with the finish planned for 5.45pm Euro time but as ever they seem to finish early.
Daily Díaz
Graus, today's departure town, was home to Joaquín Costa (1846-1911), a politician and historian that identified the two main causes of Spain's disgraces: oligarchy and caciquismo (corruption). He witnessed the Desastre of 1898, when Spain lost Cuba, Puerto Rico and the Philippines, and proposed the regeneration of the country.
In km 46 the race crosses Aínsa, a tourist destination for those visiting the Aragonese Pyrenees. This medieval town has a well preserved historical center. Several abandoned hamlets can be found in the surrounding area, though.
Boltaña, where the first intermediate sprint of the day will take place, is also a tourist destination. The ruined castle is important, but the monastery turned into 5 stars hotel is praised for its services.
Km 113,7 (33,1 to the finish line): the race arrives to Biescas, Fernando Escartín's hometown. This climber was on the podium of 1999 Tour de France (a stage win), and achieved 13 top 10 places in the GC of the Grand Tours. Today's stage will honor the 45 years old Aragonese.
In August 1996 (Escartín was 8th in Tour and 10th in Vuelta that year) 86 people were killed by a flood in a campsite near Biescas. Later investigations proved that it had been built in a place with high chances to suffer that kind of disaster.
Thanks to cycling podcaster and history teacher Manuel Pérez Díaz for the local information. You can follow him on Twitter as perezdiazmanuel