Sunday's stage finishes with the classic through Valdepeñas de Jaén. Just one kilometre long but a wall where the slope hits 27% and any rider who loses momentum will lose time on GC.
Stage 8 Review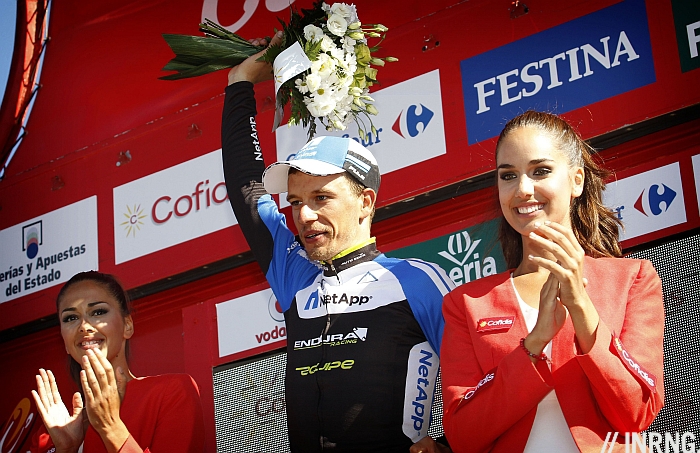 A stage win by Leopold König. His ride on Stage 2 looked good and followed his mountain stage win in the Tour of California but this was a win to confirm his abilities. The question is whether he can cope with the really high stuff and climbs that are 20km long. He's Czech but note König is German for King. The team rode well, sending Bartosz Huzarski in the day's break.
A red jersey for Roche. He's looking lean, you can see two cephalic veins on his biceps. It'll be interesting to see how he fares in next week's time trial, it's never been his thing but team manager Bjarne Riis is known for insisting his riders do long training rides on their time trial bikes.
If the gaps between the first riders were close, several riders lost time and look to be out of the race for red, notably Bauke Mollema and Roman Kreuziger. Another thing to note is Team Sky who have been placing riders in a breakaways, something they'd never do in the Tour and a sign that Sergio Henao and Rigoberto Uran are not seen as certain performers.
Stage 9 Preview
The Route
Plenty of red ink on the profile with 2,800m of vertical gain but that's no more climbing metres than some of the "sprint" stages last week. The Alto de los Frailes is an accessible 6.2km at 5.8%.
The Finish: the profile above doesn't do the finish justice. But look closely and you'll see the last kilometre gains 100m in altitude very quickly thanks to some steep ramps. It his 23%, goes up to 27% and then there are more sections at 23% to the line. See for yourself in the video below, skip to 4m30s.
The Scenario: a break could stick if the chemistry is right. But I think the most likely event is the bunch speeds into town and the specialist climbers duke it out on the rampón. Joaquim Rodriguez has won here before but his team mate Dani Moreno seems to be climbing better.
The finish rewards explosive riders so whilst the likes of Ivan Basso and Bart de Clerq had a good day yesterday, a win here seems unlikely. Instead Leopold König has a good chance again and Nicolas Roche will be motivated. When the race visited in 2011 Wouter Poels made the top-3 but the signs are there this year and Bauke Mollema did a good ride too but cracked yesterday. Finally watch Vincenzo Nibali, a dropped chain means he might be out for revenge and has thrived on the steep slopes of Sant Elpidio.
Weather: warm and sunny, a fine day for racing.
TV: the finish is worth watching and is planned for the usual time of 5.45pm Euro time.
Daily Díaz
Today's stage leaves the sea to visit the inner regions of Andalusia, from the tourism orientated coast to the rural latifundia where millions of olives are grown. Spanish olive oil is part of the so-called Mediterranean diet, and 99 % of Spanish doctors recommend it to prevent almost every kind of disease
Antequera is considered the heart of Andalusia. It is more or less equally distant to the major cities of the region: Seville, Malaga, Cordova and Granada. The alcazaba built by the Moors is a medieval fortress which dominates the city and its surroundings
Valdepeñas de Jaén is one of the three Spanish towns with that name. The other two are Valdepeñas de la Sierra (Guadalajara) and just Valdepeñas (Ciudad Real)
The poorly populated and socially unbalanced inner Andalusia has been for centuries a place where bandits pillaged the cortijos (country houses). Banditry has been a recurrent problem in the region until the first third of the 20th century, when the last of the bandoleros was captured
Jaén province has also been the site of two of the most important battles in Spanish history. In 1212 the northern Christians beat the southern Moors in the soicalled Reconquista. In 1808 the Spanish army crushed the French troops, one of the first defeats in Napoleon Bonaparte's military career
Gracias to cycling podcaster and history teacher Manuel Pérez Díaz for the local information. You can follow him on Twitter as perezdiazmanuel