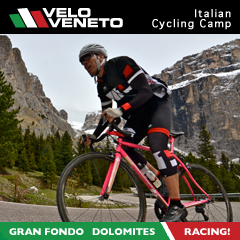 Every sponsor of this site gets a note of thanks and it's now time to say thanks to travel company Velo Veneto who are here for May. The company offers a range of trips to Italy and beyond with a focus on the Dolomites.
Next week I'm planing to write a piece with tips for viewing a mountain stage in a grand tour because it's not as obvious as you think, there's closed roads, picking the right spot and more to think about. One way to avoid all this is to trust an expert and the guys at Velo Veneto run organised trips to the Giro so you can watch the race as part of a tour.
As well as riding, there's plenty of time to enjoy the other things Italy can offer, from wine and grappa tasting to the local food. They offer everything from riding and touring in the Veneto region – home to many pros as well as the legendary Monte Grappa – to the chance to race, take part in Gran Fondos in the mountains and more. You'll find more online at veloveneto.com.
Grazie
If you're a new or infrequent reader, yes this is an advertorial piece. It's a custom that all sponsors get a public note of thanks. Rather than just renting some pixels on screen, their support makes the site happen so I'm only too happy to get a page explain what they're about. Velo Veneto are here for May and the Giro but I'm planning to use the funding to research for the Tour de France stage previews.
As well as the web, you can also follow their Twitter and Instagram accounts.