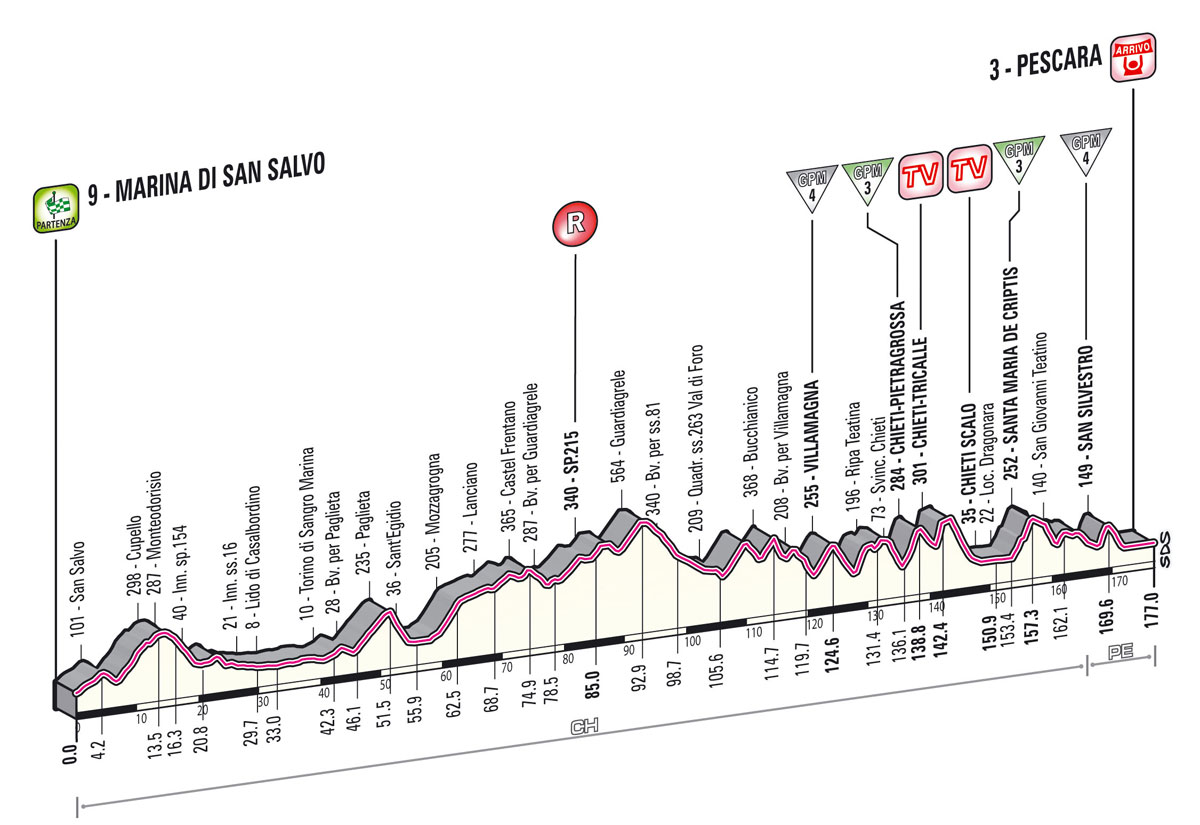 With the 55km maxichrono time trial tomorrow many of the big names will aim to rest today. Easier said than done given the stage profile above resembles a traumatic electrocardiogram.
But if the big names think about tomorrow, for others today is their day, a chance to escape and win. So the day promises quantity over quality, the sheer number of riders and teams trying to claim the day should offer plenty of action.
Yesterday's Stage: after several spicy stage finishes peppered with action, lapping the salt works of Margherita di Savoia brought a predictable result. It's a tribute to Mark Cavendish that his wins are almost inevitable, time after time he sees off the others.
We got a pure sprint finish unimpeded by crashes although there were other incidents during the day. Luca Paolini's grip on the overall lead remains as firm as every. For years he was the perpetual top-10 pick for the Flemish classics, now he's leading at home.
The Route: so far the Giro's been a tour of the Italian coastline with more seaside stretches than a Sri Lankan yoga camp. But each time the riders have turned inland the racing has changed. Italy's geography is simple, a crown of alpine mountains form its northern border and then a spine of mountains running down the country, the Apennines.
In other words the Giro only has to turn inland to start climbing. It's this geography that gives the Giro spectacular options, unlike France where the Alps,  Pyrenees and Vosges are stuck on the borders and the climbs of the massif central are often too far from towns and cities willing to pay for the race. Today the race really heads inland with relentless series of climbing, in total 3,300 vertical metres.
As well as the total amount of climbing, the categorised climbs along the way are noted for their steep sections.
Villamagna: 4th category, 2.7km, average 5,6%,  11% max
Chieti – Pietragrossa: 3rd category, 2.7km, average 7.8% 16% max
Santa Maria de Criptis: 3rd category, 3.9km average 5.9%, 18% max
San Silvestro 4rd 2.2km category, 4.5% average, 14% max
There's an air of Tirren0-Adriatico here, the early season stage race is a regular visitor to Chieti only this time there's a 25km run to the finish rather than a hilltop finish. But the steep slopes remain, riders will be reaching for the lowest gear possible.
The Finish: after all the action the finish is so flat it's not worth showing the profile. A sharp left hand bend with 2.8km to go, then a sharp right hander at 2.2km and then a long wide finishing straight with smooth asphalt.
The Scenario: with the long time trial tomorrow it's hard to see the big names taking risks. Efforts today will be paid for tomorrow, even a sneaky attack to win 30 seconds could generate enough fatigue to lose more than this in the time trial. So it's day for a breakaway. What's certain is Katusha have every interest to protect Paolini's lead for another day and they might let a group of riders stay away as long as the fugitives don't threaten Paolini.
But a breakaway can take many forms. The early move can go but could be brought back if some teams have missed it. Just as there are days for climbers and days for sprinters, today is a day for a lot of the riders who fall in between these two labels. Who? Well not everyone will get a ticket to ride as they've got team duties, perhaps we're talking about one third of the peloton. The route means the rider has to be able to cope with the climbs so we can thin down the probable winners but we're still left with a lot of names. If you want three, how about Rory Sutherland (Team Saxo-Tinkoff), Marco Marcato (Vacansoleil-DCM) or today's regional rider, Danilo Di Luca (Vini Fantini)? Although there's still a chance everything comes together for a bunch sprint from a reduced peloton and the likes of Enrico Battaglin (Bardiani-CSF) or Fabio Felline (Androni) strike. And whilst the main GC riders might sit tight, there's still plenty of lieutenants and others could try an ambush.
Weather: rain. Temperatures will be around 20-22°C (70°F) with little wind. The rain is forecast all day meaning a cold and tiring day for many.
TV: live coverage begins at 3.10pm Euro time and it'll be worth watching soon after. If the big names aren't likely to fight, all the more reason to watch the others fight for their day. The finish is planned between 5.00-5.30pm. If you can't find it on TV, cyclingfans.com and steephill.tv will cater for your internet feed.
World of the day: big as in big names. When we get a lead group with all the contenders for the overall, it's "con tutti i big" as they say in Italian, with emphasis on beeeg. Either way it means all the big guys. Whilst Vini Fantini manager Luca Scinto rails against "anglo-saxon" cycling teams thwarting his plans for the win – don't worry, it's nothing personal, he gets on TV with the theatre – the host broadcaster RAI is happy to deploy many English words, even the onscreen graphics appear to be in English.