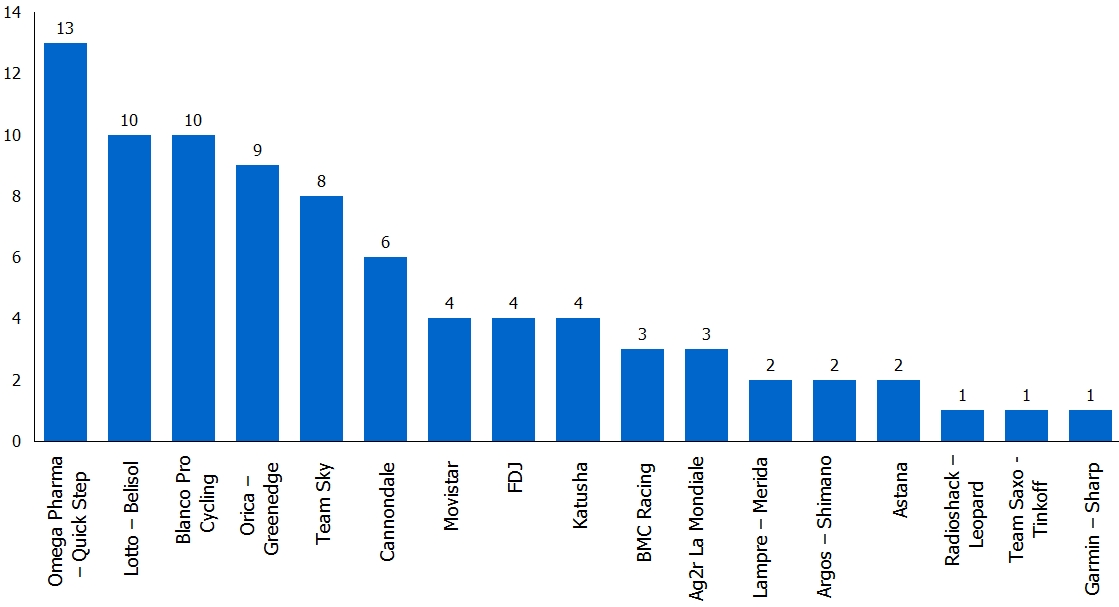 With Paris-Nice and Tirreno-Adriatico done, an update to the team victory rankings. OPQS now lead thanks to recent wins from Sylvain Chavanel and Tony Martin, a sign that the Belgian team can win on almost every front, with the probably exception of the high mountains and the overall classification of grand tours.
Vacansoleil-DCM and Euskaltel-Euskadi are the two teams without a win. A problem? Yes and no as I'll explain below with the story of Wout Poels.
Wout Poels' Recovery Ride
In cycling you can't always win, in fact you usually don't. When 25 teams start a race, 24 will lose unless it's a stage race when there are wins for various jersey competitions. Lose is a strong word and if you can't win a race then how you go about trying becomes an important story. It's here that Vacansoleil-DCM has quite a story with Wout Poels. Do you remember the giant crash on Stage 6 of the Tour de France, the Metz massacre that broke bones, punctured lungs and led to a wave of abandons? Well Poels was on the victim list with a ruptured kidney and spleen, a bruised lung and three broken ribs. The Tour doctor examined him and when the medic pressed on Poels ribs the Dutchman felt electric pain… but gritted his teeth and said he felt nothing so that the doctor would clear him to ride. Poels tried to ride on but it was too much and he was evacuated to the nearest hospital and it was feared he was going to lose a kidney. Fast forward to today and he's just finished 10th in Tirreno-Adriatico. No podium but an encouraging tale of recovery that's as much of a win as any race result.
Ticking Clock
Still for all the heart-warming tales here, time for a cold shower. Vacansoleil is considering whether to pull out of the sport after backing the team since 2008. The lack of results is not helping matters, especially since a decision is expected to be reached in April meaning there's the sound of a ticking clock and no result in the Tour de France, the vital publicity festival, can change things. When the last team rankings were listed on here I cited Blanco's predicament as they too hunt for a sponsor and wondered if the lack of backer meant riders were just that bit hungrier for the win. With Vacansoleil-DCM the answer is probably not, because this Dutch team is equally hungry but has no wins.
Wins versus points
Meanwhile Euskaltel-Euskadi's still going to count on the likes of Samuel Sanchez, Igor Anton and Mikel Nieve to deliver results in the summer stage races. The team is without a win but crucially not without points. There's a big difference between actual wins and points. The chart below shows the UCI team rankings.
Here we see Team Sky a long way ahead because remember placing high on the final GC of a stage race is crucial for points. But Euskaltel are mid-table. Argos-Shimano have only six points, the sum total of Marcel Kittel's Stage 2 success in Paris-Nice.
Once again remember these rankings are only based on World Tour points. When it comes to promotion and relegation at the end of the season the UCI has a secret system (unveiled here) based on points from all pro races and not just those on the World Tour.
Summary
Nervous times for the Vacansoleil-DCM team management with the sponsor weighing up the future and the lack of wins so far. At the other end of the scale OPQS have wins in many domains. Team Sky might have lost Mark Cavendish and his win rate but they're not short of ranking points.