It's easy to see the pick of three teams for the Giro as afterthought because the biggest and best names are automatically invited. But it's not so, the wildcard picks are vital for the race, a chance to shape the Giro and take it to new audiences.
As well as the choice, the process and event itself is cleverly becoming a story and this is something other races should think about.
Fixed Menu
As a reminder, all 18 UCI World Tour teams are automatically invited and must ride. In addition, the Androni Giocattoli-Venezuela team will ride as it won the team prize of the Coppa Italia in 2012, giving it an automatic spot.
A La Carte
This leaves three teams to pick from the UCI Pro Continental ranks. 10 teams have applied and it's like facing the dessert trolley in a good restaurant. How do you choose?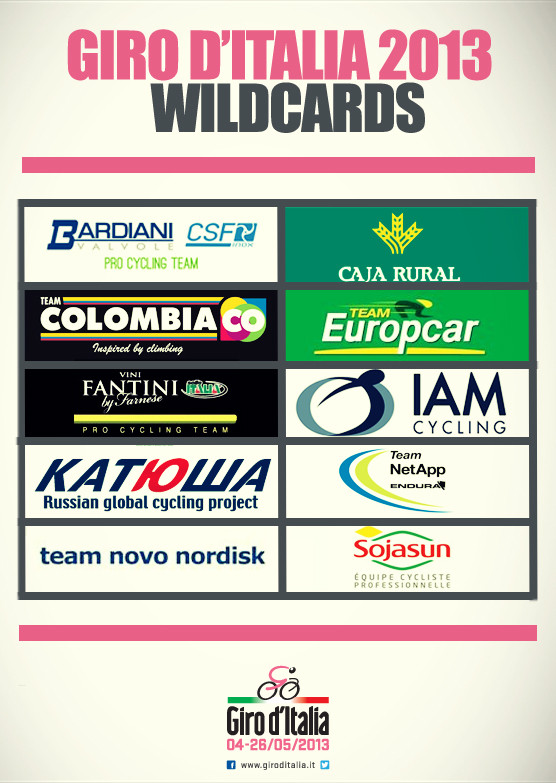 Note Katusha on the list but for now they don't have a team licence to ride anything so were they to be awarded a spot it would have to be a provisional basis. This is complicated and we'll return to their case later.
As ever it's a question of balance and business. Balance because the race needs Italian teams to fulfil its domestic role as the national Tour. Lampre-Merida and Cannondale are formally listed as Italian teams and the latter is likely to send a strong contingent of Italian speakers despite being increasingly international. Astana speak Italian, they are managed by Giuseppe Martinelli and have several prominent Italians, notably Vincenzo Nibali. But three and half teams is not enough.
Both Vini Fantini (ex Farnese Vini, the fluo yellow guys) and Bardiani Valvole-CSF Inox seem to have lighter squads on paper but it's not much the star names, it's the spirit. Without big names it means they have to attack and this is essential liven up the race. But who else to invite?
Caja Rural could ride knowing they'll be fresh again for the Vuelta. But can you name any of their riders? With Movistar and Euskaltel already riding there are probably enough Spanish teams
Europcar have a big focus on July. They might have a roster of 25 riders but once you pick their nine men for July the star factor shrinks, especially since the likes of Pierre Rolland and Thomas Voeckler are likely to race the Ardennes classics and then take a break before returning for the Dauphiné
Team Colombia are my pick for mountain mayhem. Plus the likes of Jarlinson Pantano and Darwin Atapuma have the best names in cycling
IAM Cycling are another good pick with a good team but they have their sights on the Tour de Suisse already
NetApp-Endura came close to a stage win last year and with more experience and depth to the team they could triumph
Team Novo Nordisk seem unlikely to ride given their team is not big on star factors even if the team's mission could resonate beyond the race
Sojasun are similar to Europcar, some good riders but once you strip out the riders for July then the team is lighter. However, an invitation for the Tour is not certain so they might want to ride. It would be a good test for the team but I can't see RCS Sport offering the team a spot just so this team can gather experience
Note African newcomers Team MTN-Qhubeka are not on the list but instead they have applied for other events. Indeed RCS will not just announce the Giro invitations but all their other races too like Tirreno-Adriatico, the Strade Bianche and Milan-Sanremo.
But so far I've listed the sporting considerations. A good race attracts a big audience and this is important. But commercial considerations apply too. Just as RCS has paid appearance fees in the past to bring star names, the reverse is possible with teams paying RCS. Last year NetApp were invited but we should note the sponsor also bought adverts in the race. This not a guaranteed method though, just ask the likes of Vacansoleil who for years sponsored ASO races only to get refused. Broader considerations apply too. Do you want to expand the race in a particular market? If so then invite a team from the region.
The Katusha Case
What should RCS do here? The team is obviously a strong pick but given Joaquim Rodriguez is already talking about the Tour de France, he won't ride. Indeed once you remove the Catalan and assume some mountain men will ride with him in July the remaining Russian rump of riders is less attractive although Ignatiev, Brutt and possibly Menchov could have their say.
But the real problem is more fundamental. Katusha don't have a licence. Give them a wildcard and they might not be licensed to race by May. Or they could win their CAS appeal and therefore have the right to to ride the Giro.
It's a tough call but RCS probably have to deal with the cards that the UCI have given them: if Katusha aren't registered then they can't ride. Perhaps reviewing their dossier was an act of politeness?
INRNG picks
Unburdened by commercial factors, Vini Fantini and Colombia are my prime choices. The third choice is harder with Bardiani, IAM and NetApp-Endura each having their merits. The trouble here is forecasting too much, extrapolating rider rosters into results. Perhaps the only certainty here is that Bardiani are 100% Italian and the Giro should help its local roots. But then again NetApp have German connections and the sport is crying out for a boost there. Fortunately someone else has to decide.
A Media Event
The decision gets announced tomorrow and whilst the decision is tough, this is great for the Giro. Put another way it would be a problem if they were short of good candidates to invite.
The whole process is worth nothing. The Italian media has been examining the contenders for some time (Tuttobici, La Gazzetta Dello Sport) and it's created debate and story. Contrast this with the pick for the Tour de France where there's nothing until the press release gets issued; ASO is only beginning to explore social media and 21st century communications.
The Tour is so big that maybe it doesn't need to get extra coverage but all the same, RCS are going out of their way to promote the race and they are already building a story about the 2013 edition. Right now July might seem far away but the Giro is being talked about. There's a lesson here for other races. For sure, you're not going to get emotional about the wildcard picks for the Tour du Poitou-Charentes. But it's the big races I'm thinking about and ways to make them last beyond the duration of the competition. For example ASO does a lot of work to review the route of Paris-Roubaix and only a fraction of this ever seems the light of day and there must be plenty of stories about the Tour of Flanders too.
Summary
It's difficult choice but that's a luxury for Giro boss Michele Acquarone and his colleagues at RCS. Since they can't pick the first 19 teams, the remaining three give them a choice to shape the race and its image. The contest itself is an asset for RCS and their race. They've cleverly created drama before the race, turning an administrative decision into a public contest and you wonder if others can learn from this.
Follow up on 8 January: the decision has been made and wildcards go to Bardiani, Colombia and Vini Fantini