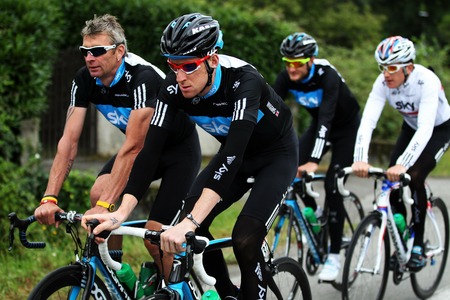 It's a rest day in the Giro d'Italia today. With two weeks of racing you'd imagine there are some tired riders by now but yesterday saw riders doing seven to eight hours across the mountains, with 6,500 vertical metres in one go. I think it was the most mountainous stage of any race ever seen at pro level.
Add in the cold weather to mean even more calories get burned up, not to mention the previous day's leg busting climb of the Zoncolan and if there was every a welcome day of rest it's today.
But what do the riders do? It varies. Many simply have nothing to do. Used to a daily routine of eating, racing, travelling and sleeping, suddenly there's a change, a lot of time to waste. It's welcome but can feel awkward too as time can pass slowly, stuck in a sleepy hotel in a ski resort normally that's more at ease in winter.
Most riders ride
It might sound strange to ride if you're close to exhaustion but it's very different from a race. The body gets so used to racing that it expects effort every day. The riders will go for a spin but think of it as a "walk on the bike" instead and don't forget these guys are used to racing hard every day. So a little ride is quite pleasant, some will do up to two hours but at an easy pace.
Those who are injured will often ride too, but a much shorter ride. Some will stop for a coffee and since we're in Italy, maybe a gelato too. One aim is to sweat, to stop water retention and you'll see riders donning thermal wear for a ride even if it's warm, plus nobody can afford a chill in case it weakens the body and a virus gets a head-start.
For the big names the day can be spent with press conferences, having to supply quotes to journalists needing to file stories on a day where there's no action. It's easy to sit in a room and hold court but all the same, minds as well as legs are tired. The top names have to earn their money today, whilst domestiques get to nap in bed.
Everyone will be eating. It's easy to imagine a massive hunger but often riders are unable to replace the calories burned with ease. The trick is to eat plenty and graze in the day, taking on board extra energy when possible. But within reason, nobody wants to start the next day overloaded or bloated. It's a chance to eat some protein and even red meat since there's more time to digest it.
It's also time to home, to update the blog, to read and to sleep. Many will be studying the Road Book in order to get information for the next few days. With only a few days left teams and riders alike are counting down the number of chances to win, especially for the Italian teams in what is their biggest race of the year.