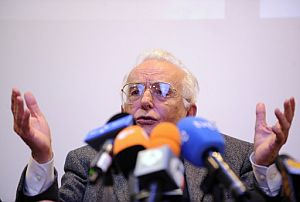 Towers of strength
Etorre Torre is the chief prosectutor for the Italian national Olympic commission. The fact that the Olympics organisation has its own chief prosecutor should tell us enough. Torri is their anti-doping terrier. Here's American writer Sam Abt on the man:
Italy, for the past two decades the hub of doping scandals and suspicions in bicycle racing, has been transformed into the leader in the battle against cheating because a 76-year-old grandfather feels he has a mission. He is Ettore Torri, a slight man with a weighty title: chief anti-doping prosecutor for the past year for the Italian Olympic Committee.
Only more recently Torri has landed in hot water. In a rare interview, his first for two years, he stated:
"I'm not the only one saying it. Lately, all of the cyclists I've interrogated have said that everyone dopes…
… The longer I'm involved in this the more I marvel at how widespread doping is. And I don't think it will be eradicated. Because it just evolves continuously. There are new substances coming out that can't be tested for."
This has been translated into headlines of "Torri: all cyclists are doping", when in fact he's saying that the riders he has caught resort to the "everyone dopes, so I had to" excuse. Yes the headlines are wrong but tell me what's wrong with the comments above?
The story has generated a lot of anger amongst riders and teams. But I can't help feel some are protesting too much. Idiotically the Liquigas team is publicly questioning whether Torri should keep his job. Perhaps it's because their own Franco Pellizotti has been caught? Lampre have also resorted to open criticisms. Meanwhile team boss Giuseppe Sarronni and star rider Petacchi are under investigation.


The Case for Torri
My initial reaction was that this was the wrong interview, that he needed to get out of his ivory tower. But on reflection he's not exactly a media operator and if the headlines were bad, the actual text is pretty accurate.
I'm inclined to give him the benefit of the doubt. Why? Well because he's been a determined prosecutor over the Operation Puerto revelations. If few Spaniards were banned, Torri took down the likes of Basso, Scarponi and above all, even Valverde. A force for good, he's made a few enemies along the way.
Attack Torri, stay silent on dopers
One final word: Torri's remarks weren't helpful but he's hardly the villain here: the cheats are. When a rider, a whole team or even the Italian national federation attacks Torri in public, ask yourself whether they also issue withering attacks in public on the dopers. For me, those slamming Torri are shooting the messenger. Now there are a few riders with the guts to speak out but you'll probably count many more people queuing up to attack Torri than denounce the likes Pellizotti or Petacchi.