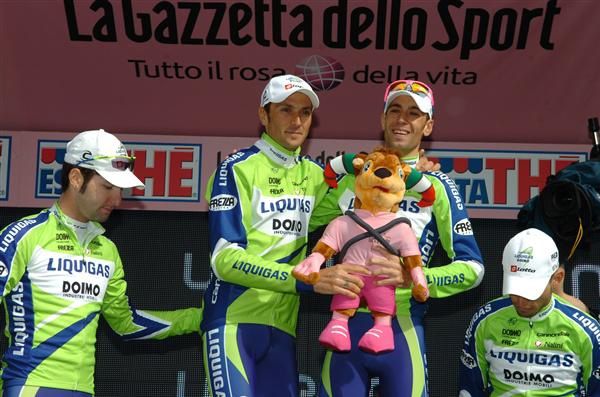 Who gets Girbecco next year?
Liquigas have won two grand tours this year thanks to Ivan Basso and Vincenzo Nibali. Indeed Nibali's win marks the first Italian win in a grand tour outside the Giro since Pantani in 1998.
It should be a particular satisfaction for Liquigas that 2010 has proved a vintage year with classic battles and tension right to the end. Perhaps the level at the Giro and Vuelta was simply not as high as the Tour de France but there were no fluke wins.
Questions, questions
But what happens next for Liquigas, how can they manage their star riders? Nibali seems a top prospect but will he want to race the Tour de France next year? This would probably mean forgoing the Giro d'Italia and quite possibly a win here, all to finish behind Alberto Contador. So maybe he wants the Giro d'Italia. But what happens to Basso in this case, will he play helper to Nibali and then have a go at the Tour or the Vuelta, again knowing that Contador is supposed to be eyeing these races?
But many were raising these questions this time last year, Liquigas had a good team on paper and we wondered how the talents and personalities would be managed. Looking back things have gone very well, everyone has had their chance.
Giro-Biopassport


But ironically the entente is because of the bio-passport. Arguably the removal of the alledged Michele Ferrari client Franco Pellizotti allowed Nibali and Basso to shine in the Giro and to then have their chances in the Tour and Vuelta, perhaps leaving Nibali breathing the bigger sigh of relief. And similarly, 2011 will see Kreuziger with Astana, one less internal rival.
So the team will have less headaches but riders and management will still have to sit down and work out who will target what.