This blog covers pro cycling, but so do many websites. One aspect of this is going beyond the sport. Races travel across farm tracks, through towns. I want to help place the sport into the context of political, geographical and social forces that surround it. It might seem like it at times but bike races don't take place in a bubble.
So as part of a series about life in Europe called "Out of Competition", here's the second installment, again about Belgium…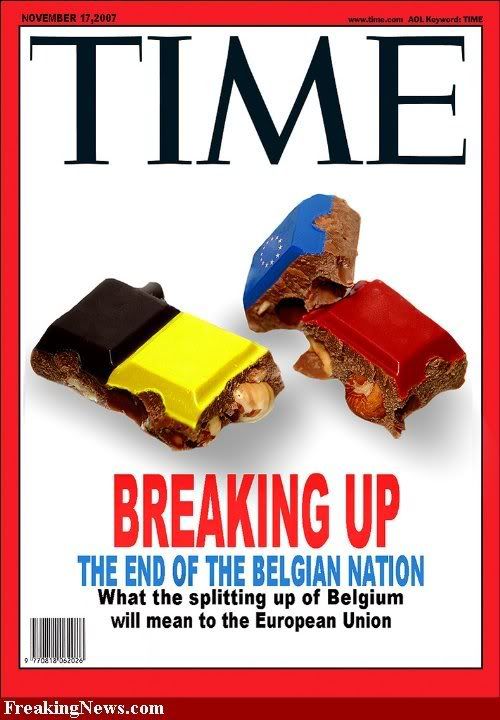 I wrote last time how some French speakers are having trouble getting housing in the Flemish parts of Belgium. That was a local difficulty, applicable only to a few people. Front page news in Belgium but hardly mentioned in the press outside of the country. But here's a follow up to show just how Belgium is splitting down the lines of language and region.

An opinion poll published last weekend showed the three Flemish independence parties scoring 40%, up from 36% in last summer's local elections. In addition, the polls say the most popular politician in Flanders is Bart De Wever, head of Nieuw Vlaamse Alliantie, one of the pro-independence parties.
What does this mean? In short, many Flemish want independence and this would mark the end of Belgium. The country has long been a coalition of interests but the rise of Flemish independence is a powerful phenomenon, it began with background support for quasi-fascist nationalist parties but is now embraced by a far larger majority, support has gone from 10% t0 40% in a decade. Parliamentary elections are due in 2011 and this could mark a real change in the way the country works.
All this doesn't imply any change for cycling, although clearly Philippe Gilbert, a Walloon, would no longer be teammates with Tom Boonen at the Worlds. But that's not the point, sport is not part of the process.
Instead we've got a country splitting in two right under the nose of the European authorities in their Brussels base. As I've said before, Belgium is a prosperous place but one half of the population is slowly being pitted against the other half and that's not a recipe for success, especially since the Walloons are set against independence.
So remember, the next time you see the Lion of Flanders flag at a race, chances are the bearer is making an over political statement in favour of separation.
This is part of a series on European life called "out of competition" where I try to show a few things that go beyond bike racing. For more items see the following:
Out of Competition
Part I: another other side to Belgium
Part II: Is Belgium splitting apart?
Part III: The Bike as a Way Out
Part IV: The Walloon Cockerel
Part V: Belgian Government Collapses
Part VI: Young, Gifted and Credit Blacklisted
Part VII: Belgian elections
Part VIII: The summer of Spain
Part IX: Preparing for the break-up of Belgium
Part X: Those flags you see in Italian races